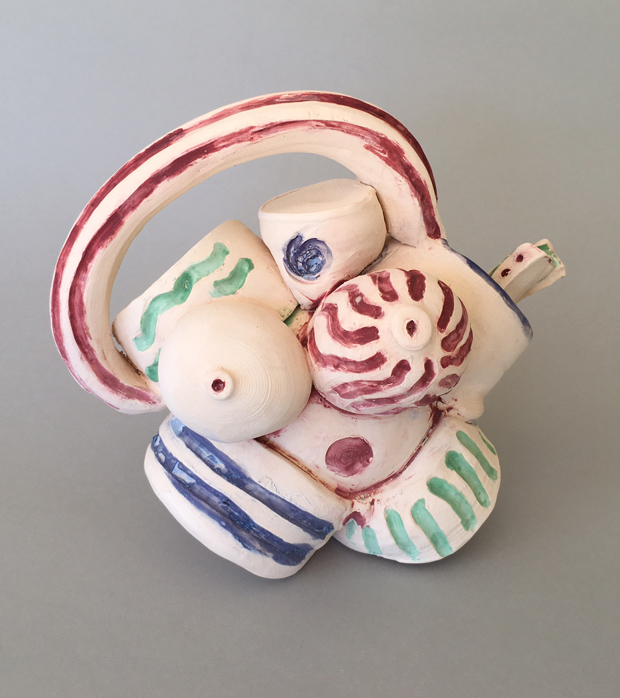 In every artist's career comes a time when the artist needs to experiment and deviate from their successful body of work. It's a risk worth taking. Although it tends to turn the heads of followers and patrons at times, it stimulating for the artist's inner self.
My ceramics professor in college, during one of my class critiques, asked me, "Are you going to ever leave beginner stage?"
He was an arrogant type. His question was not to inspire me to progress my work. It was intended to be a put-down. I didn't want to feed his quest. I paused and looked around at my peers who were all waiting for my answer too. They had sympathetic looks on their faces and glad they were not in my situation.
"Never! In the beginner stage, everything is new. I don't want to loose the "newness" that fuels my creativity."
My defiant reply caused a gasp from around the room and silence from my professor. He moved on to the next student's work, without saying a word to me.
Not too long after that encounter, I noticed some unusual activity coming from the kiln area. To my surprise, my professor had set up a secret throwing area, complete with a wheel and wedging table, hidden behind thousands of pounds of clay. On his wheel, was a bigger version of my vase he had critiqued. This beginner had struck a nerve of truth within him. He had taught ceramics for nearly 30 years, but had stopped creating any body of works of his own in the last 10 years of his career.
The Wonderland Eve series is about experimenting with parts of other successful series and merging all them all together to see what the synergy is. With it, an incorporation of the Eve sculpture, the spirals of the Harmony Vases, and colored slips and Mason Stains of the Prehistoric series, all arranged in a traditional teapot form.
This piece is currently on display for sale at the Beatrice Wood Center for the Arts in Ojai, CA until August 19th 2017.
Low fired ceramic with mason stain
7" h x 8.5" w x 5" d
$275.
http://www.beatricewood.com/acs_2017/andersen.html
http://www.beatricewood.com/acs_2017.html